Construction of another artificial reef started a couple of weeks ago with the purchase of cement and donation of porous rocks. These would make up the base structures to which we would attach coral polyps, ready to grow into a self-sustaining reef
Over the course of the week our marine team, led by Roshan, Emma, Antonia and Alex, have worked hard to build over 20 dome structures. In order to do this, they first had to dig a hole in the sand, high up the beach so that only very high tides would potentially fill them in. Each hole was shaped and patted down to create a smooth surface before it could be filled with our cement mixture. This was then patted into the holes to create slightly varied styles of domes. Each dome had to have some arches to allow both water current and sea life to enter and flow through them. Small holes were added throughout the drying domes as another way of allowing some current flow, and also as a necessary part of the structure that would allow us to attach the Polyps.
After allowing the mixture to set overnight, the marine team returned to dig up each dome and move them to a dry zone. Here they were rinsed repeatedly with fresh water. This process helps to ensure the mixture continues to harden without causing any cracks. Seven or eight structures were built each day until the required materials were used up.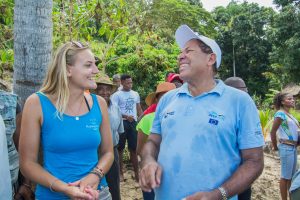 On Saturday, 18th March, Francois Gilbert, the General Director of Madagascar's Ministry of Fisheries and Marine Resources, joined us here on Nosy Komba, along with over 100 other government officials and guests to participate in attaching the polyps to our concrete domes. Just under 100 polyps, plus an adhesive were provided by Markus (the owner of Marine Aquaculture Nosy Be) to use for this process.
The polyps were already attached to mini concrete circles so the glue was applied to this before being placed on the dome. The coral polyps were spaced approximately 20cm away from each other. Since there were a mixture of hard and soft corals, these needed to be grouped together separately to maximise their growth.
As wells as MRCI staff, volunteers, and guests, a media crew was also on site filming the event and doing interviews. This means that the conservation work and the importance of the MPA and the coral reef for boosting biodiversity and fishing opportunities, will hopefully reach the wider local community. This will help them understand and perhaps aid our work in the future.
Since the event, the marine team has continued to work hard every day, attaching many more polyps to more of the dome structures and transporting them out into deep waters. There are currently 12 completed domes in the deep water, with more being added this week.
The marine staff and volunteers at MRCI will be closely monitoring the artificial reefs over the next few weeks in the hope that they will develop into a fully self-sustaining organism. During this trial period, the marine team will be monitoring indicators of stress, damage and the physical conditions. This is to allow the planting methodology to be adapted and improved, if necessary, to increase the survivability of any subsequent structures that are built and added to the reef system.
A huge thank you to our partners in this project, Marine Aquaculture Nosy Be and CNRO, for involving MRCI and aiding us throughout the building of the artificial reef.
If you would like to find out how you can join our marine conservation program, contact us today!